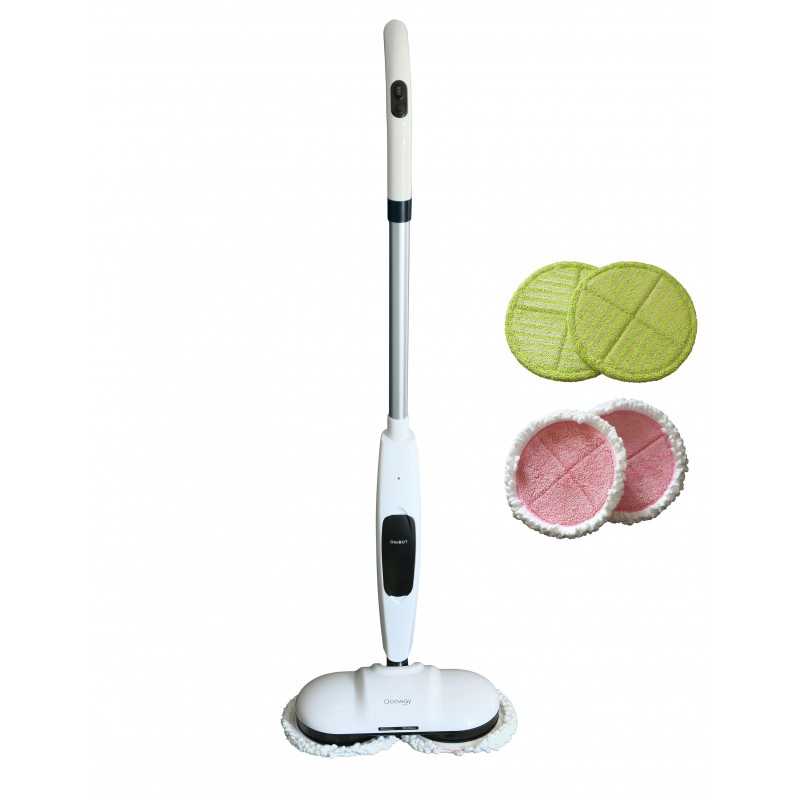  
Ooobot Floor - Wireless magic mop
Oooway presents its Ooobot Sols mop, a revolution in floor cleaning!
You will have no more limits, as soon as you switch on this electric floor mop without wires, you can use it with your fingertips in every corner of your home and on any surface. It allows you to clean/oil/wax your floors effortlessly and 5x faster than with the traditional method. 
- For all types of hard flooring: smooth or profiled tiles, wooden floors, laminate, linoleum, granite, marble.
- No more heavy and cumbersome bucket of water that has to be moved and emptied over and over again.
- No more hard-to-reach areas, its manoeuvrability allows it to go anywhere.
- Lightweight, efficient and quiet
She's leaving behind a completely new floor!
Swiss company
For a perfect cleaning quality
Effective on all surfaces : this mop can clean all types of surfaces without any problem. Tiles (also with profiles), parquet including oiled real wood floors, laminate floors, linoleum, floors, natural stone (granite and marble).
Micro-drop sprayer : our mop is equipped with an intelligent micro-drop spraying system. It diffuses the cleaning product located in the detergent tank throughout the cleaning process. In addition, thanks to the button on the handle you can spray more detergent to dissolve and clean stubborn stains. 
Double rotation motor : Equipped with a double rotation motor and two cleaning speeds, the mop releases twice as much cleaning force as a normal mop. In addition, this one has been specially designed to work in silence in order to respect everyone's peace of mind. 
Ultrafibre pads : The 15 mm thick ultrafibre pads allow for quality cleaning that is suitable for all surfaces. A velcro fastening system allows a quick and easy installation. There are two types of legs for our mop:
- The pink tabs have been designed for cleaning all types of floors.
- The green legs have been designed for waxing and washing all types of floors
The two different legs are machine washable (30°) and reusable.
Designed to make your life easier
A rechargeable battery instead of a power cable : no need to get tangled up with cables or to have a power outlet nearby. The rechargeable battery provides about 30 minutes of use per charge, equivalent to 120 m2 of surface area. It recharges from 0% to 100% in less than 3 hours. 
Easy to store : the Ooobot floor mop has been designed to be as practical as possible. That's why Oooway has thought up a simple and efficient storage system. Just fold your floor cloth in one movement and put it in standby mode. 
Easy care : it is surprisingly easy to clean! After perfectly cleaning your floors in record time, just put it in standby mode, recharge it for the next use and start washing the ultrafiber legs. Nothing more!
Ecological footprint : no more need to consume litres of water. Thanks to its intelligent micro-droplet spraying system, the amount of water used is greatly reduced from an average of 5 litres to 300 ml for a surface area of 120m2. 
Contents of the box
An Ooobot Sols
A 300 ml detergent tank
A pair of ultrafiber green paws
A pair of pink ultrafiber paws
A user manual

Data sheet
Dimensions

125x39x8,5 cm

Weight

3,2 kg

Battery

Li-ion 2200 mAh

Power Watt

60

Sound volume DB

60

Charging time Battery

2.5 hours

Adjustable handle

Non

Reservoir quantity in ml

300

Integrated front light

Yes

Cable-free function

Yes
You might also like
No customer reviews for the moment.