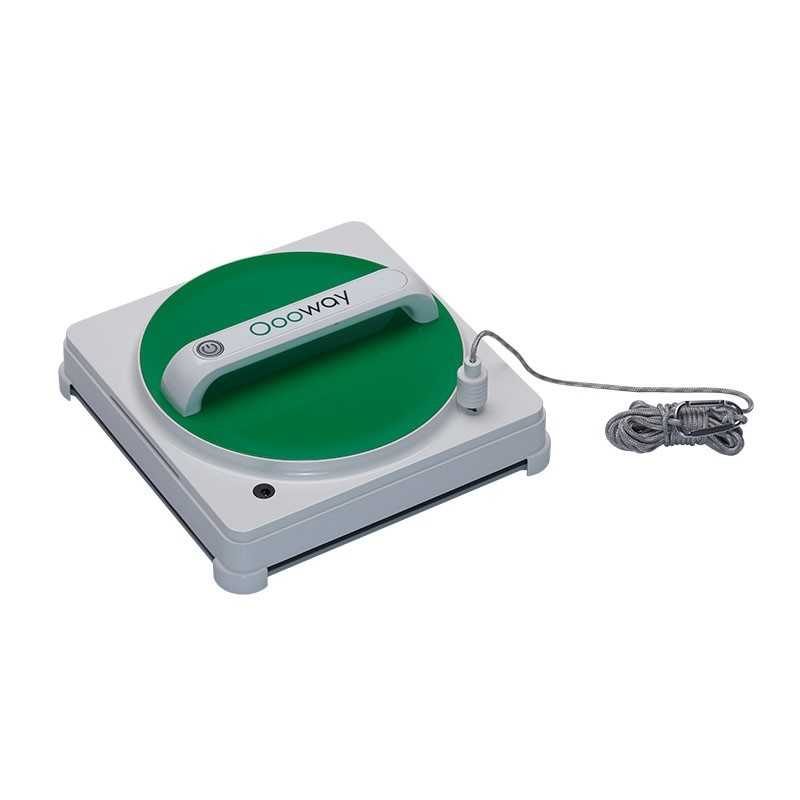  
Ooobot Window pro V2.0 - Window cleaning robot
Oooway is proud to present its newest generation window washing robot Ooobot Vitres Pro V2.0 with the most advanced navigation technologies. This fully automatic robot is perfect for large and medium surfaces.
- It cleans your windows, bay windows, tiled walls, verandas, conservatories, skylights and especially hard to reach areas with extreme ease of use. 
- He is a perfectionist! Thanks to its new, larger microfiber legs, it cleans the edges optimally.
- As a manufacturer, Oooway knows its robots inside out and will provide you with the necessary advice for optimal cleaning.
He doesn't need ladders and he's not afraid of heights!
Swiss company
An easy to use robot
Simply apply detergent to the area to be cleaned, place the robot on the glass (it attaches to the glass by suction, Vacuum technology) and briefly press the start button on the robot or on your remote control so that it starts working by itself. 
A robot that adapts to your habitat
This window washing robot is capable of cleaning efficiently on all types of glass surfaces in complete autonomy: windows, glass doors, skylights, bay windows, verandas, conservatories, etc... 
Moreover, thanks to its 4 vacuum sensors, it is possible to make it work on surfaces without edges! So you can clean windows without edges, shower walls, glass tables, mirrored cupboard doors etc...
It goes everywhere! There is no longer any need for a professional or a ladder to reach your hard-to-reach windows. Your Ooobot Vitres Pro V2.0 is there for you! With its long cable and its height of only 9.7 cm, it can be used in hard-to-reach places. 
Optimal cleaning quality
Microfiber legs: New legs have been specially designed for our robot for a perfect cleaning of the edges. The microfibre allows a quality cleaning that is suitable for all glass surfaces. A velcro fastening system allows a quick and easy installation.
There are two types of legs for our robot:
- The grey tabs have been designed for wet cleaning of lightly soiled glass.
- The yellow tabs have been designed for dry or wet cleaning of dirty windows.
The two different tabs are machine washable (30°) and reusable.
Two-track device: The two-track device allows the Ooobot Vitres Pro V2.O to move quickly over glass surfaces (2.5 min/m²). It takes only 5 minutes to clean a glass pane of approx. 2 m².  Moreover, if you wish, you can take control of your device by controlling it manually from its remote control or via bluetooth thanks to the mobile application: WinCleaner.
Navigation: The remote control or the mobile application allows you to choose between three automatic navigation modes.
Artificial Intelligence: The Ooobot Windows Pro V2.0 features AI technology that automatically detects the entire window area and calculates its cleaning path. It starts its cycle from anywhere on the window pane and guarantees 99% coverage of the glass surface. Once the cycle is completed, it stops automatically and signals the end of its cycle with a beep.
A guarantee of security
Backup battery: Each Ooobot Vitres Pro V2.0 is equipped with a backup battery in case of a power supply problem that allows it to remain attached to the window for up to 20 minutes.
Safety cord: the robot is equipped with a safety cord that allows it to work in complete peace of mind. 
Contents of the box
An Ooobot Vitres Pro V2.0
One adapter
An extension of 4 meters 
A pair of yellow microfiber cleaning paws
A pair of grey microfiber cleaning paws
A security cord
A remote control (with batteries)
A user manual
2 year warranty

Data sheet
Contents

User's manual

Contents

Remote control

Contents

AC adapter and cable

Contents

Cleaning cloths, 4 pcs

Contents

Safety key with cord

Contents

Extension of 4 meters

Vacuum suction force

5600 pa

Detector

Frames and vacuum

Dimensions

250x250x90 mm (total height with handle)

Weight

1,35 Kg

Battery

Li-ion 650 mAh

Power Watt

75

Input Adapter

100-240 V - 50-60 Hz

OUTPUT Adapter

24 V - 3,75 A

Sound volume DB

65

Speed

2.5 minutes per m2

Charging time Battery

1 Hour

Remote control

Includes

Application

IOS and Android

Use upside down

No

Total length of the electric cable

5,5 meters

AI technology

Yes

Minimum glass size

50 / 50 cm
You might also like
No customer reviews for the moment.